TRACK AND MEASURE YOUR PERFORMANCE
PUNCH. MEASURE. ANALYZE. LEARN
Speed
Power
Endurance
Punch Accuracy
Punch Type
2 SENSORS SECURED TO YOUR WRISTS. THATS IT.
LIGHT. SMALL. DURABLE. WIRELESS.
EASY TO USE. FAST TO CONNECT.
Charge
Make sure your sensors are charged and ready for use.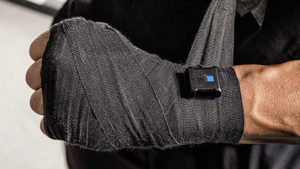 CONNECT
Wrap StrikeTec sensors securely on the topside of each wrist.
TRAIN
Choose from a list of boxing routines or customize your own rounds.
REVIEW
Check our your performance in real-time plus, review and compare your results.
WHAT'S IN THE STRIKETEC KIT?
WHATS IN THE BOX
Your kit will include:
2 identical sensors
charging case
usb charging wire
box with foam insert for storage
SWEAT RESISTANT
DURABLE FOR HIGH IMPACT
ON / OFF BUTTON
SMALL. LIGHT. DURABLE.
The sensors are so small and light, you will forget you are wearing them. Wrap them on your wrists under your gloves, and you wont even know they are there.
DURABLE CASE
The sensor case is small, lightweight, and extremely durable. Throw it in your gym bag, keep it in your pocket, or stuff it in your boxing gloves. Your sensors will be safe and easy to find.
USB CHARGING CABLE
The case doubles as a charging station. Place your sensors in the slots, close the lid, and attach the usb charging cable included.
Sensors can be charged via laptop, or Wall outlet. * European high voltage outlets not recommended.
LONG BATTERY LIFE
10 – 12 hours connected training
or up to 72 hours unconnected.
Sensors have glowing LED lights indicating battery status