StrikeTec Tracks and Measures your complete Boxing performance. Track your performance stats in real-time and get a complete analysis of your training routine with our punch by punch details and our easy-to-read comparative charts.
TRACKING PERFORMANCE
StrikeTec tracks key performance metrics for each punch including: speed, power, pace, punch count, calories burned, and more. With StrikeTec, you will have a variety of training modes and activities for different skill levels (beginner, intermediate, advanced). Choose your workout, adjust your round settings and get your real-time performance stats. Use StrikeTec's video coaching and guided combination training to get your perfect punch technique dialed in. When you are ready for a complete workout, browse the workout routines to take on a full body, calorie burning workout.
STATS THAT MAKE A
DIFFERENCE
VIDEO COACHING
StrikeTec provides a library of 100+ videos that will teach you everything from the basics of boxing, combo learning for all skill levels and follow along full body workouts that you can view on your smart TV. These videos are combined with an easy follow along guided training that will help guide you punch by punch until you can memorize your favorite combos in no time.

PUNCH BREAKDOWN
Understanding how you are performing is a crucial part to improving your performance. StrikeTec uses comparative charts that will compare your daily,weekly,monthly performance stats to help point out your weaknesses and help you improve them. In the punch breakdown section, you will be able to compare each punch type: Jab, Cross, Hook, Uppercuts for each category – Speed, Power, Count, Pace.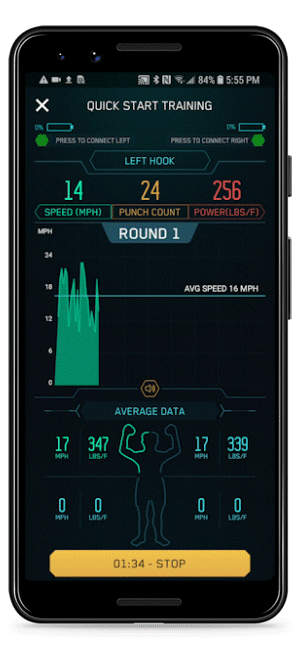 ARE YOU READY TO
TRAIN LIKE A PRO?
ARE YOU READY TO
TRAIN LIKE A PRO?
SIGN UP FOR THE STRIKETEC NEWSLETTER
We'll send you tips, tricks and updates on new features!
GET
STARTED
---
By submitting this form, you are consenting to receive marketing emails from: . You can revoke your consent to receive emails at any time by using the SafeUnsubscribe® link, found at the bottom of every email.
Emails are serviced by Constant Contact