Train with

A NEW WAY TO BOX.
The most advanced and accurate boxing fitness platform on the market. Providing interactive training for all skill levels.
Speed
Striketec utilizes real-time algorithms based on proven mathematical equations to calculate the actual speed of each movement.
Power
Striketec has patented its technology in order to set itself apart as the only sensors available with the ability to show truly accurate power numbers of every swing.
Performance
Striketec has perfected its technology with the goal of only counting proper movements that complete a full swing in an effort to curb those that attempt to cut corners.
Connected
Whether your are in the same gym, living room, garage, or continent; StrikeTec provides the platform for like-minded individuals to connect with one another anytime, day or night.
Coaching
StrikeTec offers a variety of easy to use, in app instructional videos from trainers, coaches and professional fighters teaching skill levels from beginner, intermediate & pro.
Interactive Training
StrikeTec offers a follow along interactive training experience like no other. Learn punches, movements, combinations as well as set routines and workout routines for all skill levels.
Virtual Battles
With the ability to challenge others around the world; StrikeTec provides an interactive and engaging component to its platform not found anywhere else!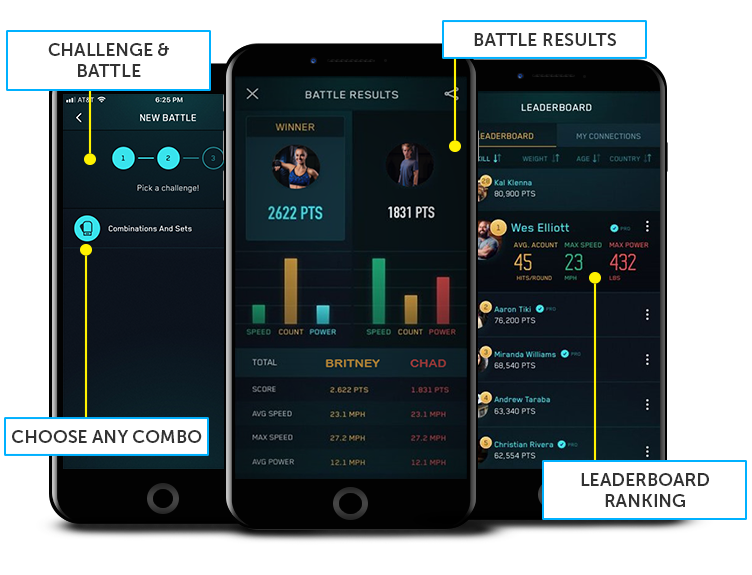 Functional Gaming
The team at StrikeTec realizes training can be fun and has provided a unique gaming platform that gives its users a sense of self motivation through a variety of challenging, goal oriented exercises.